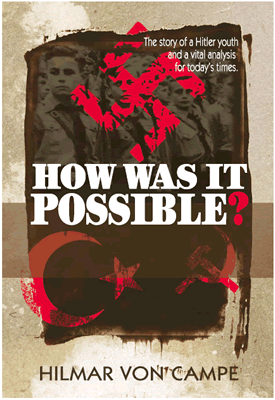 $27.90 includes S&H in U.S.
How Was it Possible? is the autobiography of Hitler youth and German soldier Hilmar von Campe. While describing his life as an active participant in the greatest tragedy of the twentieth century, von Campe warns the world that it faces the same challenges today with radical Islam as it did in the 1930's.
Von Campe lived through years of Nazi power and brain-washing. After the war, he learned about the Holocaust and Nazi atrocities. It was then that he came to grips with his contribution to these horrors, his moral responsibilities for them, and the reasons why something like that could have happened.
"I had thought that as a soldier I was fighting for my country, but I came to realize that in reality I was fighting for the immoral purposes of a bunch of gangsters," von Campe says.
The destruction of Germany, the loss of his father in a Soviet concentration camp and of his elder brother who fell in Russia, and the expulsion from their home in Eastern Europe, had a profound impact on von Campe, who now lectures on his experiences nationwide. His comparison of the Nazi philosophy with that of extremist movements today is unique.
Listed in the 1992 "International Who's Who of Intellectuals," von Campe is the author of five books. He is a WWII veteran of the German Army and former prisoner of war in Yugoslavia, who narrowly escaped in 1945, after crossing seven borders to freedom. Hilmar von Campe is now an American citizen.
"The choice for people and nations is to stand up for the truth or be part of the lie," von Campe says.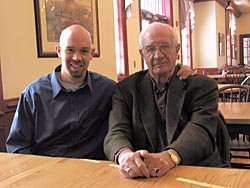 Special Two Part Series
As detailed in his newest book, "How Was it Possible?" Hilmar vonCampe tells how he got recruited in the Hitler Youth, what it was like as a soldier in Nazi Germany, how he escaped from a prison camp, and the striking similarities of the current climate of anti-American attitudes of the Arab world, Russia and China and Hitler's Germany. What is hard to believe is that someone could have served under Hitler and yet not followed him or his Nazi party.
How Was It Possible? Part 1
How Was It Possible? Part 2
Changing Worldviews TALK Radio with Sharon Hughes

Comments were made by Nora Brinker, an independant journalist and translator with a M.A. in History. A West German, she lives now in East Germany. She was brought up as a Socialist and agnostic and found a faith in God." www.editrixoffice.com
I was asked by Jeremayakovka what I think of German author Hilmar von Campe: "Is he an ordinary man who has sought to do a little good? a rigorous intellectual? a fraud?"

An interesting question, which I'd like to share with you.

As von Campe was unknown to me so far, I had a look at him and his work and after a first cursory assessment I'd definitely say that he is NOT a fraud.

What impresses me specifically is that he doesn't pose as a former rabid Nazi who saw the light, but that he stresses the fact that it was looking the other way of ordinary people like himself which made the Nazi atrocities possible.

I appreciate, too, that he seems to see the Communist crimes in perspective and doesn't reckon them up against the Nazi crimes, something only too many Germans like to do.

I appreciate, too, that he draws the inevitable parallels between Nazi Germany and the recent Muslim threat. It needs a lot of courage to do that. Many former Nazi followers (like Nobel-laureated asshole Günther Grass) are falling over their own feet in anticipating obedience and dhimmitude. Everything (but EVERYTHING!) not to be called a Nazi or "racist" again. (To what extent there is the conscious ot subconscious desire behind it that the Arabs may finish what the Germans were forced to cease, namely the Holocaust of the Jews, is a different question right here.)

Hilmar von Campe's biography bears witness to the fact that the secular Leftist/Liberal ideologies are no answer to the totalitarian and inhuman threats now, as they haven't been an answer then.



| | |
| --- | --- |
| $27.90 | includes S&H in U.S. (please email for international orders) |
| | |


Home ¦ Nat'l Institute ¦ Keynote Addresses ¦ Monthly Articles ¦ Hilmar's Books
Holocaust Statement ¦ What's New ¦ Personal History ¦ Family Biography
Dignitaries ¦ Audio Interview ¦ Reviews
Testimonial Letters ¦ Links ¦ Contact Us ¦ Site Map